Dizary book 2 – Demons of Myradé
Limited Edition Hardcover
One insane adventure was not enough for the hero's of the first book.
"As far as I am concerned, it is a joy to be able to read the Dizary books…"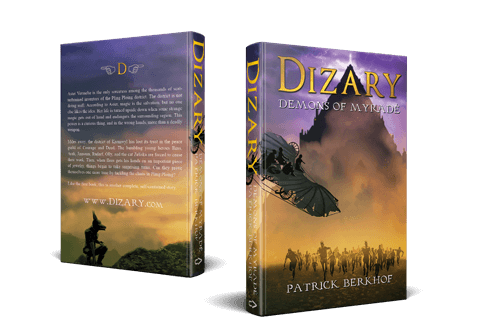 Aster Vermelie is the only sorceress among the thousands of scatterbrained inventors of the Pling Ploing district. The district is not doing well. According to Aster, magic is the salvation, but no one else likes the idea. Her life is turned upside down when some strange magic gets out of hand and endangers the surrounding region. This power is a curious thing, and in the wrong hands, more than a deadly weapon.

Miles away, the district of Kurbwyl has lost its trust in the peace guild of Courage and Deed. The bumbling young heroes Ileas, Arak, Jinasum, Rudarf, Olly, and the cat Zeliska are forced to cease their work. Then, when Ileas gets his hands on an important piece of jewelry, things begin to take surprising turns. Can they prove themselves one more time by tackling the chaos in Pling Ploing?
(Shipment only in the Netherlands)

For fans of the Mazerunner, Lockwood & Co., the Cliff Chronicles, Weis & Hickman, China Miéville, Terry Pratchett, Ursula Le Guin.
Limited Edition Hardcover
Only 30 copies numbered and signed
This is a finished story.
For the true fantasy, young adult reader. Expect lot's of fun and an enigmatic adventure until the last page.